The 7 Must-Have Tech Accessories in 2021
Time is running out, our 10% discount OFF with "EXTRA10" coupon code!
With the start of a new year, we witness new Tech creations. 2020 is gone and we welcome 2021 with a fresh new start. A beginning to explore the hidden tech accessory wonders that are yet to be described. Prepare yourself for the astonishments you will receive when finding out the best accessories you need for your devices. No more having to search all over for the perfect accessory, it is now here.
We all have gotten chills with the new announcement of the Samsung Galaxy S21 5G and Galaxy Note 20 Ultra. Featuring it's impressive 3 camera high-quality details. 2021 has definitely started off right! Agoz provides the best Right Angle Fast Charging Cables for your newest Samsung Galaxy model today. When it comes to buying a new device it requires much care and attention. Making sure that your brand new device remains in good condition. After buying a brand new device we often tend to overuse the charging cable and after a while goes bad. At times before buying a brand new cable people ask themselves "How many types of charging cables are there?" You see, when it comes to buying you can go from buying Micro, Type-c cables, and much more. You can purchase the ordinary cables that you see all over, but have you thought about 90-degree cables? The L-Shape feature allows you to watch videos and enjoy games horizontally while your phone is charging. Enjoy the fast charging features that Agoz 90° cables offer you!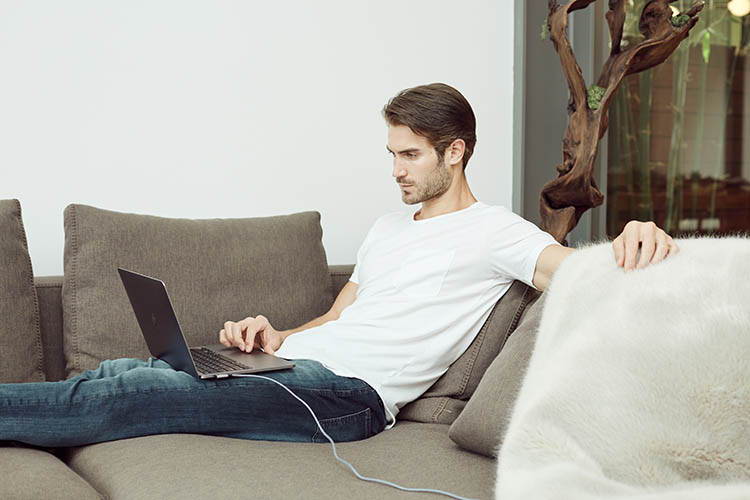 Winter is soon gone and spring is around the corner. Spring provides the perfect weather for fun bike rides, a new year requires new memories to be made. Caring for your phone when you go biking can be a bit tricky. When biking, it is very hard to obtain easy access to our devices. So how can I attach my phone to my bike? When it comes to biking it is very scary to think about your cell phone falling out of your pocket and shattering everywhere. Agoz Silicone Bike Phone Holder will securely hold your phone to the handlebars, having very easy access to calls, making videos, and answering text messages. Perfect for all devices up to 6.25 inches.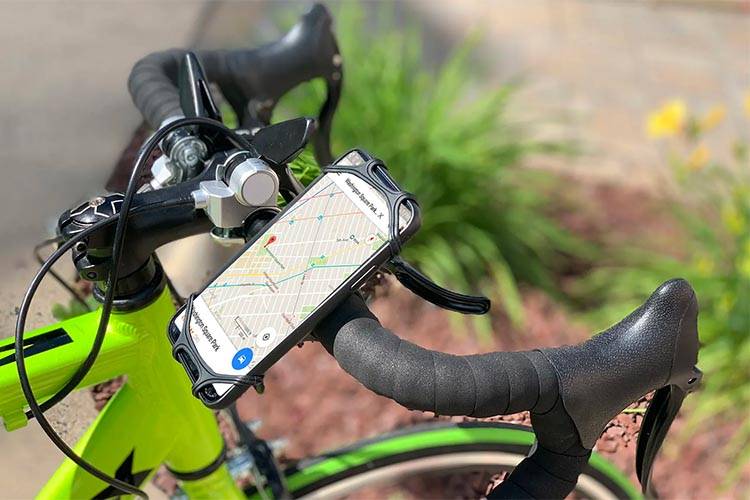 In-Ear Wireless Bluetooth Headset
How do we multi-task with headphones wires getting in the way all the time? Trying to get work done while on the phone? Yeah, so cables can be a bit more complicated at times. Always in the way of things or constantly falling out of the ear due to the cable getting caught on something. Situations like these can often give us more headaches than we actually need. So which headphones are best for office calls? The Agoz Bluetooth Wireless headset offers great features. Here are 5 reasons why you need an Agoz headphone now.
.
Hands-free, multitasking made easy.

Crystal clear sound.

Multifunction all at once.

Enjoy calls with up to 10 hours of talking.

Stylish storage case.

Agoz In-Ear Wireless Bluetooth Headsets are compatible with devices such as the most recent Motorola 5G One, Moto G8 Plus, Moto Z3, and many more.
Small 3-in-1 USB-C, Micro USB, and Lightning Charging Dock
Trying to organize the workspace at home? Whether you are working in an office or you are working from home, your desk can be fully occupied with stuff all over. If you have more than one phone or device, you will probably need several types of USB cables and most of them might get in your way disturbing you from work. How many phones can you charge on a Charging Dock Station? The Agoz small dock provides 3 charging ports to power up your phones with Micro, Type-C, or lightning connectors. This dock station is perfect for all kinds of devices like the LG V60 ThinQ 5G, Galaxy S21, iPhone 12 Pro, and Google Pixel 5. You can now work freely without anything being in your way. Next time you ask yourself How can I declutter my desk at home? The Agoz Small 3-in-1 Charging Dock Station is the perfect way to start tidying up your workspace.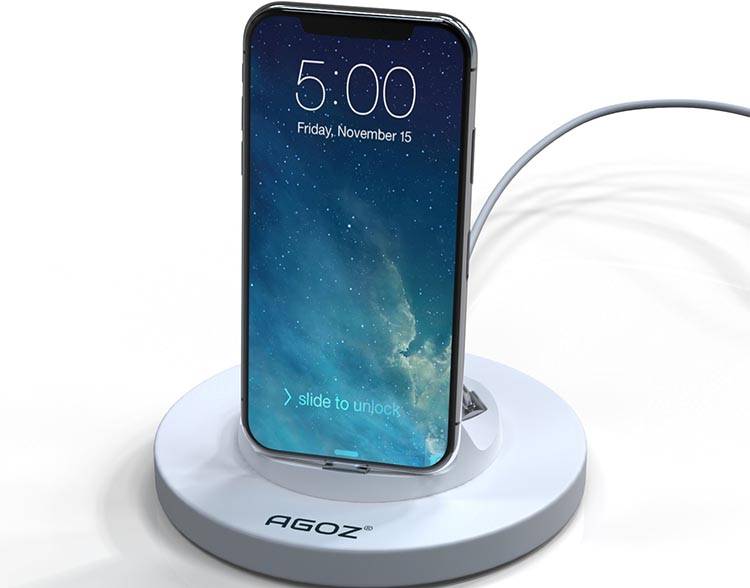 Have you had your phone hidden in your pocket all this time? Simply placing your phone in your pocket after a call or worrying that it may slip out of your hand? It is not very convenient to have to buy a new phone due to phone drops, they can be really expensive! It is important that care is given to your cell phones. Agoz Leather cases protect your phone with convenient belt loops and magnet closures. You will not have to worry about your phone dropping or slipping. Get a sleek look always with the leather material the case provided. Protection and style, what else could we want?
Adjustable Desk Phone Holder
Are you tired of having to position your phone in front of a cup or a steady spot to hold your phone up? Many times we try to place our devices in specific locations for our use. Maybe you are trying to start a Facetime video or watch a YouTube video, but your iPhone or Android phone is constantly dropping. Agoz desk phone holder allows you to position your phone on any flat surface for the perfect videos, calls, and easy access. What are the benefits of using a phone stand? The Agoz Phone Gooseneck Holder is functional and comfortable and can be used all most on any flat surface. Besides it is compatible with Apple iPhone 12, iPhone 11 Pro Max, Samsung Galaxy S20 Ultra, Google Pixel 5, LG Wing, and many more.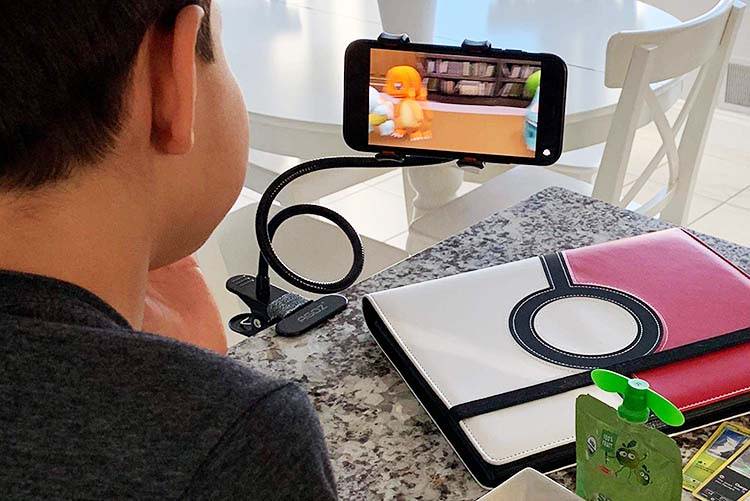 Fast Home Charger Adapter
Ever in a hurry to get your phone charged? Tired of having to wait hours to get your phone to finally charge? Waiting a long time when in a rush can be very frustrating, you need t head out and your phone won't charge. AgozTech has designed high-end fast charging wall adapters to solve those issues. Many may ask " What should I look for in a wall charger?" High-quality material and quick charge are some of the key features you should be looking for on a phone charger. Overheating can occur and could damage your phone battery over time. No need to wait hours to have your phone charged. It is important to make sure that your phone supports fast charging like models Samsung Galaxy M31s, Samsung Galaxy A50, Iphones, and many more new smartphone devices. Your phone can now charge up to 60% in just 30 minutes!
Here at Agoztech, we have a variety of mobile phone accessories that will bring you convenience and comfort by propping up your phone when you need it the most.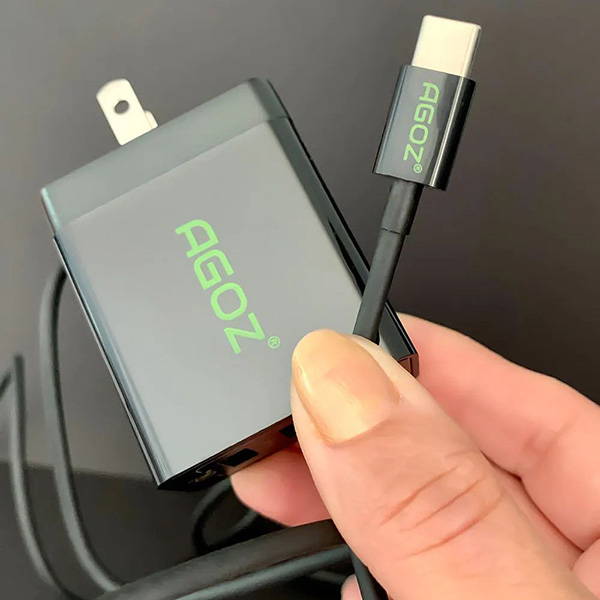 Enter your email and receive 10% off your first order.
---